WHY US
More Apps & Quick Update
Panda App Signer
Panda provides fast, stable and secure iOS
signature service, which can be installed
after app uploading.
Sign my apps
Learn more about App Signer >
Panda Cheat Engine
Cheat in your games by modifying
money, HP, SP, etc.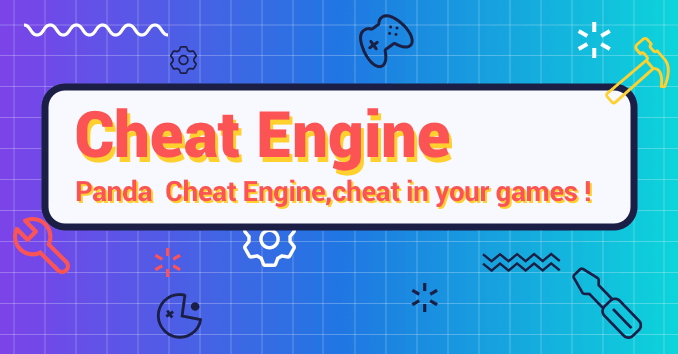 Try Cheat Engine
Learn more about Cheat Engine >
Panda Speeder
Hack your game speed with speeding
up,speeding down and even MMO.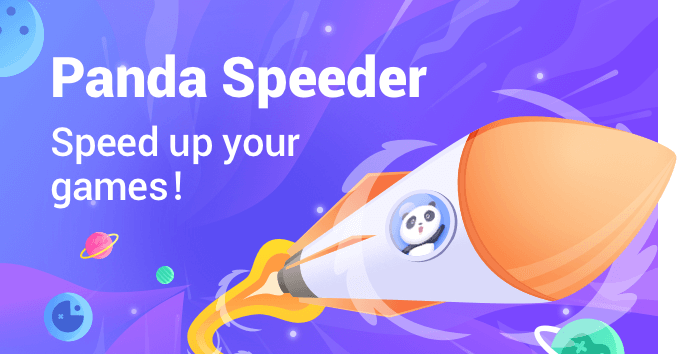 Try Speeder
Learn more about Speeder >
Join Panda Helper
Make Life More Enjoyable
Download
Download Error
Please provide UDID of your device and Transaction/Invoice ID, then try clicking the Download button again.
OK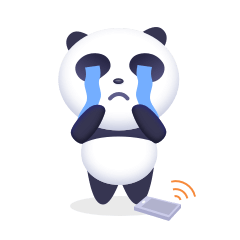 Tips
The server is busy. Please try again later.
Got it
Tips

Certificate is revoked, we are trying to fix it.Please try again later.

Please follow on Twitter. We will inform you the latest news there.
Follow @PandaHelperApp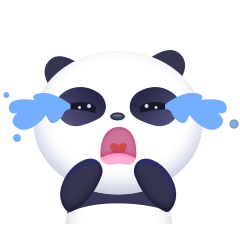 Certificates are revoked. We are trying hard to fix them. Please be patient and we will compensate the validity days for VIP.
* If you don't want to wait, you can choose urgent re-sign with extra fee.
Announcement

Sorry, Apple recently stepped up the blockade of third parties to make it unusable. We are trying a new solution and it may take 2 weeks to fix. After the repair is completed, we will extend the effective time for the affected members.

Now you can:
1、Select Submit UDID and we will manually configure a more stable certificate based on your order of submission.

2、Choose to download the temporary Panda (which may be very unstable, but currently available), thank you for your support.
Submit UDID
Tips

Certificate is revoked, We are trying to fix it, but it will take time.

You can download the speedy version for temporary use.
Waiting for fixing
Announcement
Recently, the certs aren't stable. We will manually reconfigure the certificate for you based on the purchase time. Once the configuration is complete, you can download it.
Purchase Time
Download Time
Before 19:30 CST
After 20:30 CST on
the day
After 19:30 CST
After 4:00 CST the
next day
Tips:
1、If you purchased at 5.17 3:00-5.19 19:30 CST, you can download at 5.19 20:30 CST.
2、If you purchased at 5.24 3:00-5.26 19:30 CST, you can download at 5.26 20:30 CST.
I Understand
Tips
Waiting for the third party to return the payment result, please do not repeat payment...
If the waiting time exceeds 5 minutes, it may be
1. Payment failure or cancellation, please click to buy again;
2. Payment has been confirmed. Please refresh the page before trying to install it.
OK

Important Notice
We hope that you can take 1 minute to read it,
it can help you make better use of Panda Helper.
1.Click on "Install"
Then Panda Helper appears on homescreen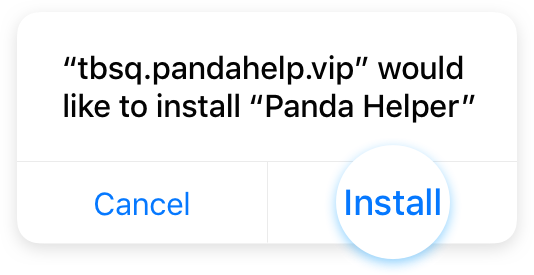 2.Go back to the homescreen and confirm that Panda Helper has been installed successfully

3.Click on "Click to trust", If the system pops up the windows,click "Allow"
Click to trust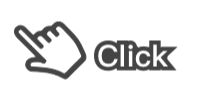 4.Find the enterprise developer certificate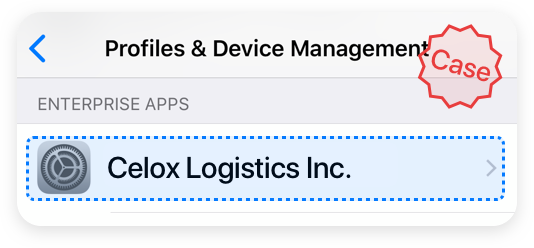 How to find the certificate >>
5.Click the certificate and click on "Trust"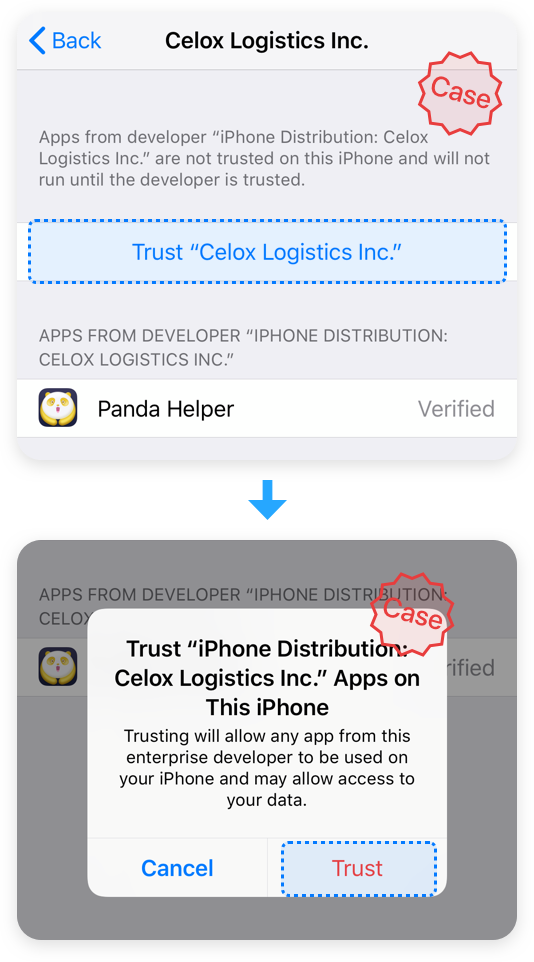 6.Congratulations!You have read over the guide!

Error
Failed to get the UDID, please contact customer service.
Contact us

Install Guide
1.Click on "Install profile"
Install profile

2.The pops up the window,click "Allow"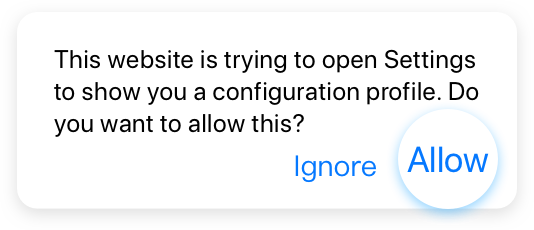 3.The pops up the window,click "Done"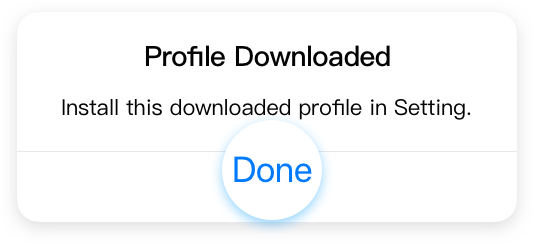 4.Click on "Open Setting",find the"PandaHelp"
Open Setting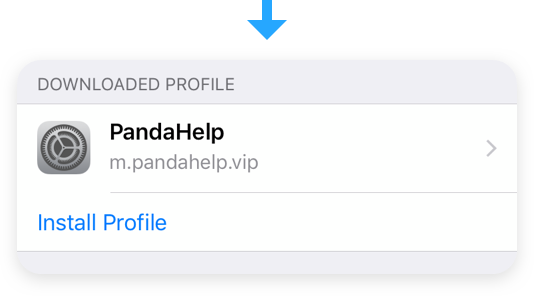 5.Install the"PandaHelp"profile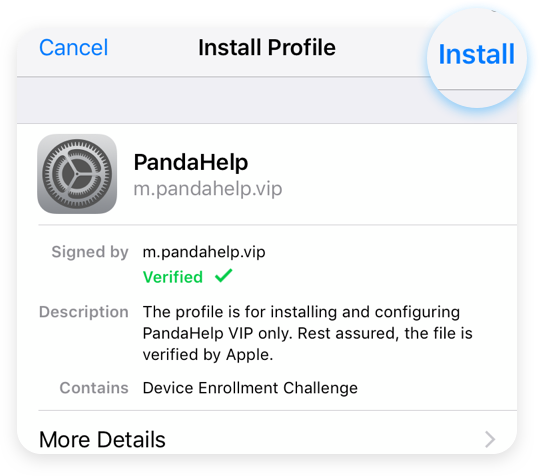 6.Back to this website,click on "Download"